"I Saw" No. 99 & No. 100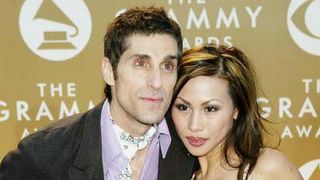 Perry and wife not with Flea and wife, not at the Getty

Rode the tram up to the
Getty Center
with
Flea
[quietly cool in a OP-style surfer shirt with casual, pin-stripped slacks] and his new bride [attractive in a tall, earthy way]. They then joined
Perry Farrell
[cool as ever, hair parted to the side, doting on child in a stroller] and wife [not much different than the photo above]. They were with a group of friends--including the guy who just taught Kevin Federline to surf--for a birthday celebration at one of the
restaurant's
outside tables.
Spotted a post-beach
Connie Britton
, along with her bit-taller-than-Michael-J-Fox husband, shopping at Patagonia on Main in Santa Monica.
Three things to note: 1) These are clearly in order of importance. 2) All have made previous "I Saw" appearances. 3) Rode down the tram with Mr. Surf Instructor, hence the Britney's beau knowledge.